The proposal to lower the speed limit on the Golden Gate Bridge for all bicycles to 10 mph has sparked some controvery with cyclists. The plan is intended to reduce bike-related collisions since speed was cited as a main factor in many bicycle crashes.
Bridge officials say the growing popularity of biking or walking across the bridge, along with a
yearlong safety study and a planned four-month closure of the bicycles-only west sidewalk have convinced them of the need to slow down the cyclists.
But which cyclists are to blame and if we slow down all cyclists to 10mph, won't that discourage bicycle commuting?
Bicycle coalitions are understandably concerned because their opinions were not included in the study. The proposed speed limit upset many Marin residents who commute to their San Francisco jobs by bike. By Thursday, two days after the district proposed the speed limits, 78 people had e-mailed bridge directors, with a scant three backing the idea.
Issuing $100 tickets to violators would be bad for the bicycle community. Baker, a typical commuter stated, "We're normal commuters. We work hard; we enjoy it. We certainly go faster than 10 mph but we don't race. We're safe; we don't race; we slow down for pedestrians." Several bike commuters said inattentive tourists on rental bikes pose a bigger safety problem. So, the key as I see it, is to balance the safety concerns with the needs of bicyclists as well. These two competing concerns are not necessarily mutually exclusive.
As an avid bicyclist and zealous San Francisco Bicycle Attorney I promote safe and cost effective bicycling. Bicycle commuting is good for the biker and good for the community. I'm a proud sponsor of the Marin County Bicycle Coalition, and member of San Francisco Bicycle Coalition and Silicon Valley Bicycle Coalition as well. I do believe that safety comes first.
I am very glad that the coalitions have weighed in and hope that the decision making process will one day reflect the opinions of the bicycling community as well as others. The primary goal of bicycle coalitions as I see them is to promote safe bicycling both as a viable form of daily travel and recreation. These groups also are rightfully concerned with policies which discourage bicycling, and they express these legitimate concerns.
As a pedestrian attorney I am of course in favor of increased pedestrian safety; however, lets be careful not to demonize San Francisco bicyclists. I too want to learn what the bicycle community has to say and hope for a solution that makes everyone happy and safer.
I can also understand the Alta Planning & Design concerns about the head-on collisions due to the speed of some of the bikers, especially around the bridge towers. But I do not promote making decisions without listening to the people whom will be impacted–the bicycle riders.
A bicycle accident can be deadly for both pedestrians and bicyclists. Injuries such as head injuries, bone fractures, spinal cord injuries, or other serious injuries can occur. I hope all concerned will remember that if bicycling is safer, we will be encouraging bicycling and enhancing the image of cyclists in our community.
Feel free to contact me if you have any questions or concerns about California bicycle laws or bicycle safety, especially on the Golden Gate Bridge. I'd be glad to speak with you free of charge.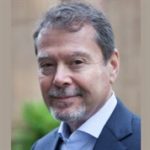 Claude A. Wyle is a partner of Choulos Choulos, and Wyle, a San Francisco based law firm dedicated to representing clients who have been injured by the wrongful conduct of individuals, corporations, public entities, and businesses. Mr. Wyle also frequently sits as a Judge Pro Tem for the city and county of San Francisco.