As an avid cyclist and supporter of the San Francisco bicycle community in the San Francisco Bay Area and as a Bicycle Accident Attorney, I really love to report about something other than bicycle accidents. This time, I am very happy to report that a local East Bay nonprofit is helping out a fellow citizen in need.
In this case, the recipient is a a double amputee who lost his legs to cancer in 1991 whose custom-made, hand-cranked bicycle was stolen in San Francisco just before he was set to ride it across the country in a specialized race.
Thankfully the Bay Area Outreach and Recreation Program, a nonprofit in Berkeley, has loaned a new bike to 53-year-old Krzysztof Jarzebski for his journey to The Polish Paralympics.
We still don't know who stole Jarzebski's $13,000 bike Thursday, June 7th from the rectory quarters of a church where he stayed.
Jarzebski has ridden all over Europe on hand-cranked bicycles, and will continue to do so, thanks to the generosity of this nonprofit. We will all be watching to learn how well he does and cheering for him all the way.
About the author: Claude Wyle is an aggressive advocate for San Francisco Bay Area bicyclists and pedestrians. Claude has decades of experience representing those harmed by the wrongful conduct of others, and, as a San Francisco pedestrian and bicycle accident attorney, has fought to protect the rights of injured cyclists and pedestrians throughout his legal career. Claude is also an avid cyclist himself and member of the Marin County Bicycle Coalition, San Francisco Bicycle Coalition and Silicon Valley Bicycle Coalition and is a sponsor of Safe Routes to School. He is also a member and lecturer of EDD, a group dedicated to End Distracted Driving.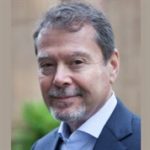 Claude A. Wyle is a partner of Choulos Choulos, and Wyle, a San Francisco based law firm dedicated to representing clients who have been injured by the wrongful conduct of individuals, corporations, public entities, and businesses. Mr. Wyle also frequently sits as a Judge Pro Tem for the city and county of San Francisco.