As you're now likely aware, we're into the Winter months of Daylight Savings Time (and if you weren't aware, you've likely missed a meeting or two by now). But just because it's darker earlier doesn't mean you can't still enjoy your afternoon run. But Please be careful! With darker afternoons come increased roadway hazards. Please remember to take the following steps when setting off on that darker after work jog:
Stay Connected: Apps such as "MapMyRun" and Nike allow for live tracking, so friends can track your progress and loved ones can be aware of where you are at all times.
Plan your route: The same apps that track your run also offer interactive maps to plan running routes and keep you on the right track.
Stay Aware: If you're running with music, leave an ear bud out so you can hear oncoming and following traffic or other hazards.
Be Identifiable: Always carry your ID or medical alert bracelet, so you can be identified in the event of an emergency.
Go Against The Flow: Remember, when running you should be running AGAINST traffic.
Be Visible: Wear bright colored and/or reflective clothing, so you can be sure to be seen. Do not count on ambient lighting as it is unreliable at best this time of year.
Light the Way: Always have on blinking lights or headlamps, so you can see the road, and others can see you. I carry a small powerful flashlight I bought at the running store.
Buddy Up: Running with a buddy will not only keep you accountable and pushing each other, it will also act as extra security in the case of an emergency.
Watch For Others: On sidewalks or curbs, be sure that you're not blocking another's way, and stay aware of those with whom you share the road.
Avoid Rush Hour: This is likely the worst time to run, if you can get out before the traffic, or right after, it will make your run that much safer.
Remember, next time you're heading out for that run, follow these simple rules and enjoy the night!
Hello, I'm Claude Wyle, a San Francisco pedestrian accident attorney. Have an idea for a topic you'd like to see covered here? Feel free to contact me or visit www.ccwlawyers.com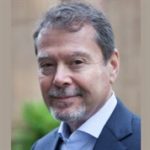 Claude A. Wyle is a partner of Choulos Choulos, and Wyle, a San Francisco based law firm dedicated to representing clients who have been injured by the wrongful conduct of individuals, corporations, public entities, and businesses. Mr. Wyle also frequently sits as a Judge Pro Tem for the city and county of San Francisco.