According to the San Bernardino Police Department,  a motorcyclist suffered fatal injuries this past Tuesday morning in San Bernardino, California, when wires knocked down by another motorist decapitated the motorcyclist as he was riding down the road.
The fatal motorcycle accident happened shortly after 9:00am, after a man driving a  Ford Taurus south on Adams street, north of Macy street, lost control of his vehicle, striking a mailbox, and driving across the front yard of a home along the side of the street. The crashed car continued down Adams until it struck a utility pole, sending wires across the roadway.
A few minutes later, the motorcyclist, also traveling South, encountered the downed pole, hitting the wires, which decapitated him. Our sincere condolences go out to the family of this slain motorcycle rider.
This story is shocking, but collisions between motorcycles and fallen wires are not as rare an event as you might have previously thought. I personally have recently handled a case on behalf of a Sacramento motorcyclist who lost his leg after striking a guy wire to a utility pole, as well as another case where a San Bruno motorcycle rider suffered a severely dislocated arm after being hung up by a telephone wire that had fallen loose between a house and a pole. While it is clearly not the motorcyclist's fault when they encounter a wire in an unforeseen place, the legal issue is usually about how the wire came to be hanging into the roadway.
The driver of the Ford Taurus did not appear to be under the influence, and was taken into custody following the incident.  What caused the Ford driver to crash and to down the wire has not been released by the press.
Hello, I'm Claude Wyle, a San Francisco motorcycle injury attorney. Have an idea for a topic you'd like to see covered here? Feel free to contact me or visit www.ccwlawyers.com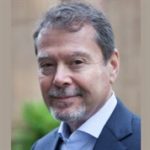 Claude A. Wyle is a partner of Choulos Choulos, and Wyle, a San Francisco based law firm dedicated to representing clients who have been injured by the wrongful conduct of individuals, corporations, public entities, and businesses. Mr. Wyle also frequently sits as a Judge Pro Tem for the city and county of San Francisco.