Most of us have heard the tragic news of the big rig driver who failed to negotiate the recently installed "S" curves in the Bay Bridge. A truck driver from Hayward died on Monday after he lost control on that portion of the bridge; he died when his truck crashed through the barrier on the upper section onto Yerba Buena Island 200-feet below.
In the wake of this latest automobile accident—there have been about 40 crashes on the "S" curve section since it opened in September—Caltrans plans to install a sign that shows drivers how fast they're going. The speed limit on the temporary span now drops from 50 miles per hour to 35 miles per hour. According to the CHP, excessive speed was blamed for the fatal crash.
Reducing the speed is certainly a step in the right direction, but is more to be done? As truck accident attorneys, our goal is to reduce the number of accidents and fatalities on our roadways each year, so we are thinking of other methods that could make the "S" curves safer. One additional measure might be so-called "rumble" dots—the dots across the road that alert drivers to dangerous conditions in the road. Increased signage would also help. In the meantime, please be alert as you travel the Bay Bridge.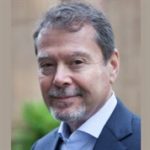 Claude A. Wyle is a partner of Choulos Choulos, and Wyle, a San Francisco based law firm dedicated to representing clients who have been injured by the wrongful conduct of individuals, corporations, public entities, and businesses. Mr. Wyle also frequently sits as a Judge Pro Tem for the city and county of San Francisco.