Our office is pretty well known for representing motorcycle riders, and also for representing bicycle riders. We have been riding our whole lives, and we hope that through making persons and corporations accountable for injuring bicycle riders and motorcycle riders, we have made our community safer. As I ponder the last several decades of representing San Francisco Bay Area bikers, I recall cases of a motorcyclist vs pedestrian, motorcyclist vs another motorcycle rider, motorcycle hurt by a dangerous roadway, and very many motorcycle riders who were injured when they were hit by a car or a bus or a truck. But, my heart goes out to the family of this poor motorcyclist who collided with a bicyclist who suddenly fell in front of him on a city street. According to the news, in Danville a motorcyclist died late last month when he collided with a cyclist.
I would be very interested to learn more about how this rather unique collision happened and if the press investigated thoroughly. I want to know what happened immediately leading up to this motorcycle vs bicycle crash? Was everyone following the rules of the road, and this was just a freak, disastrous occurrence? Or was someone not following the rules of the road? I hope that these questions will all be answered as the investigation unfolds, and I will be waiting to learn the outcome.
Reports so far indicate that the motorcyclist was headed south on San Ramon Valley Boulevard near Fountain Springs Drive when the cyclist lost control of his bike, falling in front of the motorcyclist – substantiated by a statement from Danville Spokesman, Geoff Gillette.
First responders arrived on the scene where they pronounced the motorcyclist dead, due to injuries sustained in the crash. The cyclist suffered major injuries in the collision and was transported to San Ramon Regional Medical Center for treatment. No charges have been filed.
So, when I blog, I hope that I provide value added, something that readers can take away to improve the safety of their ride or perhaps to improve their knowledge of the legal process. I hope that the family of this decedent seeks the help of a qualified motorcycle accident lawyer immediately. The bicycle rider may have insurance through a homeowners policy or perhaps through their own auto policy. For hit and run claims made through the uninsured motorist provisions of a person's own motorcycle policy, the offending party must have been operating a motorized vehicle, so a bicycle would not meet those requirements. Since I have never encountered this exact factual scenario, I have never researched whether uninsured motorist coverage would apply when a bicycle rider strikes a motorcycle rider and then does not flee the scene. If I were representing the family of this deceased rider, I would go to the scene of the collision and investigate why this bicycle rider may have fallen so suddenly. Was there a dangerous defect in the pavement? Was there a sudden or abrupt deviation in the roadway surface or perhaps some gravel left over from a construction company? My sincere condolences go out to this family, and I hope that they can obtain some level of accountability.
For comments, questions, or legal services from an experienced San Francisco pedestrian accident attorney please feel free to call me at 415-432-7290, or visit www.ccwlawyers.com. All calls and email inquiries are covered by the attorney-client privilege and are strictly confidential.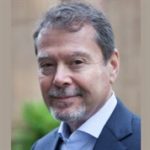 Claude A. Wyle is a partner of Choulos Choulos, and Wyle, a San Francisco based law firm dedicated to representing clients who have been injured by the wrongful conduct of individuals, corporations, public entities, and businesses. Mr. Wyle also frequently sits as a Judge Pro Tem for the city and county of San Francisco.