Motorcycle accidents happen not only to the common biker, but also sometimes, even to professional motorcycle riders.
Last week, a van accompanying the motorcade for Vice President Joe Biden collided with a San Francisco police motorcycle, causing property damage to the motorcycle, but thankfully no injuries to the officer, who was assigned to the official escort detail.
The incident was confirmed on the morning of October 8th, as the Vice President was leaving the Mark Hopkins hotel, where he was staying for fund-raising events in San Francisco.
"The van was coming out of the hotel garage onto California Street where the van's front right side made contact with the police motorcycle on the left side, which a sergeant was on," said Officer Albie Esparza, spokesman for the San Francisco Police Department.
The individual driving the van was at fault, however not cited for any traffic violations.
The Secret Service commented that no changes to the motorcade protocol would go into effect as a result of this motorcycle accident.
Motorcycle accidents are not unheard of for motorcades accompanying Vice President Biden. One notable accident occurred during the 2010 Winter Olympics in Vancouver, where former gold medalists were in a van as part of the motorcade which was involved in another traffic accident.
Although I am happy to hear that the Vice President, the police officer, and all involved did not suffer any personal injuries, this accident illustrates an important point. Distraction comes in many ways and forms and drivers and motorcyclists and bicyclists must always maintain a proper lookout for obstacles on the roadway. If motorcycle collisions can happen to highly trained SFPD motorcycle officers with years of experience on the same bikes on the same streets, they can happen to anyone! Ride defensively and always strategize your safest move.
Hello, I'm Claude Wyle, a San Francisco motorcycle accident attorney. Have an idea for a topic you'd like to see covered here? Feel free to contact me or visit www.ccwlawyers.com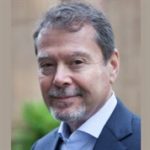 Claude A. Wyle is a partner of Choulos Choulos, and Wyle, a San Francisco based law firm dedicated to representing clients who have been injured by the wrongful conduct of individuals, corporations, public entities, and businesses. Mr. Wyle also frequently sits as a Judge Pro Tem for the city and county of San Francisco.