We know that if you hit someone and leave the scene, this is technically hit-and-run, right? Well, the leaving of the scene must be intentional or it is not a crime. In point of fact, for me it was hard to believe that John Bryson, Commerce Secretary was a hit-and-run suspect last month, and caused multiple collisions minutes apart in Southern California. Interestingly, the investigation has uncovered a possible reason for this bizarre behavior. Bryson apparently suffered a seizure at the time of the accidents.
After his hospitalization, it was not clear whether the seizure caused the collisions, or might have resulted from them though. Even though 68-year-old Bryson was found unconscious in his car after his final collision, he was still given a citation for felony hit-and-run by the San Gabriel (Los Angeles County) police while in the hospital that night.
As a California Auto Accident Attorney, I occasionally must face a defense of sudden unanticipated medical condition. If a person did not know that they had a medical condition that might impair their driving and the condition came on suddenly, then the person who crashes because of this condition is not negligent.
Factors to consider are whether the person had reason to know that they had a medical condition in the first place or that one day it might impair their driving. If you have a bad flu and are feeling dizzy, don't get behind the wheel of a car or truck. But if you feel fine and you have a sudden heart attack, were you negligent because you were driving? The law says No.
If Secretary Bryson crashed because of a medical condition that was truly unanticipated and unforeseeable, then he is not culpable.
The White House commented,
"We're obviously concerned about the incident, concerned about Secretary Bryson's health-related issues that played a role in this incident."
Bryson, a Stanford graduate, worked in California for years before going to Washington. He ran two different state agencies, then led Edison International. Just prior to the accident he had returned to California to give a commencement address at the school his children attended, the Polytechnic School, in Pasadena.

About the author: Claude Wyle is an aggressive advocate for San Francisco Bay Area motorists. Claude has decades of experience representing those harmed by the wrongful conduct of others, and, as a San Francisco auto accident attorney, has fought to protect the rights of injured adults and children throughout his legal career.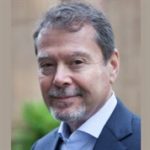 Claude A. Wyle is a partner of Choulos Choulos, and Wyle, a San Francisco based law firm dedicated to representing clients who have been injured by the wrongful conduct of individuals, corporations, public entities, and businesses. Mr. Wyle also frequently sits as a Judge Pro Tem for the city and county of San Francisco.