No Charges in Fatal SF Truck vs. Bicycle Accident
San Francisco police have not filed charges against the truck driver of a big rig that crushed to death a San Francisco Bicyclist yesterday afternoon in the city's Bayview District. According to police, an 18-wheel tractor-trailer, was driving north on 3rd Street, along with a bicyclist traveling in the same direction on 3rd. The truck began to make a right turn, and the bicyclist tried to pass it on the right and was struck by the right wheel of the truck.
This San Francisco bicyclist, Alvaro Aguilera, 39, of was pronounced dead at the scene of this terrible bicycle accident. Why did this occur? Did the trucker signal his right turn? Did the bicyclist stop at the intersection? While fault for this accident has yet to be determined, this death brings home the message that cyclists need to ride defensively. I have had several cases involving bicyclists injured by truckers who were making a right turn. Trucks, particularly big rigs, have blind spots on both sides, and a bicyclist is only tempting fate if he or she rides into the danger zone. Make it a practice to avoid that deadly spot where you have no way to escape. Fault is something we bicycle attorneys argue about after the fact, but this is truly a wrongful death.
For more information on this subject, please refer to our section on Tractor-Trailer Accidents.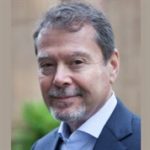 Claude A. Wyle is a partner of Choulos Choulos, and Wyle, a San Francisco based law firm dedicated to representing clients who have been injured by the wrongful conduct of individuals, corporations, public entities, and businesses. Mr. Wyle also frequently sits as a Judge Pro Tem for the city and county of San Francisco.