The San Francisco Bay Area continues to be plagued by fatal traffic accidents, after a total of three deadly crashes occurred within a five hour span earlier this month.
The first, a crash where at least one person died on northbound Highway 880, south of Marina Blvd in San Leandro.
The second, on the Octavia on-ramp to southbound Highway 101 in San Francisco.
And the third, on northbound Highway 880, involving a delivery truck.
Just what is happening here? As cities around the San Francisco Bay Area continue to fight for the Vision Zero plan, looking  to end traffic fatalities on our roads in three short years, there seems to be an epidemic of tragedy.  With more people moving to the Bay Area each day, commuting many miles to and from work, how do we, as a community, work together to prevent these tragic events, and start working towards a safer tomorrow?
As we all work on reducing serious personal injuries and wrongful death in San Francisco and throughout the Bay Area, why does it seem that the number of tragedies is actually increasing? I find it deplorable that, as I am riding my bicycle or motorcycle, or even trying to cross the street as a pedestrian in the crosswalk, I see countless drivers actually holding their phones to their heads or looking down at their phones to read a text message. And with all of the devices in the Lyft cars or in the Uber cars, how are these drivers supposed to keep their eyes on the road? Is the only answer to the plague of fatal accidents to make all vehicles drive themselves? That also seems so wrong to me on so many levels. Let's put down the phones and tablets and keep our eyes on the road, and try to end distracted driving!
Hello, I'm Claude Wyle, a California distracted driving attorney Have an idea for a topic you'd like to see covered here? Feel free to contact me or visit www.ccwlawyers.com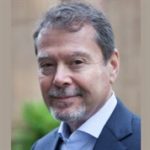 Claude A. Wyle is a partner of Choulos Choulos, and Wyle, a San Francisco based law firm dedicated to representing clients who have been injured by the wrongful conduct of individuals, corporations, public entities, and businesses. Mr. Wyle also frequently sits as a Judge Pro Tem for the city and county of San Francisco.