As a California Automobile Accident Attorney, insurance is a daily part of my life. Without insurance companies, the system fails. However, insurance companies have been known to charge very high premiums in California. California consumers have, through legislation and through the initiative process, made some progress over the years in curbing insurance company premium abuse. Consumers actually succeeded in lowering insurance costs across the state when Proposition 103 was passed over a decade ago.
Still, due to high insurance rates, many drivers still are on our roads with no insurance. Rates must be kept reasonable or those who suffer personal injuries or even property damage may go uncompensated when a negligent driver hits them. The need for insurance is often even more urgent in pedestrian or bicycle accidents.
Now we have a local Billionaire insurance magnate who wants to undo pro consumer law so his company can make more profit. The founder of Mercury General Group insurance group, George Joseph, is attempting to manipulate voters with Prop 33 in the upcoming election. As the sole bankroller of Prop 33, Joseph stands to profit hugely if his pet initiative passes. If Prop 33 passes, California auto insurance rates will go up, leaving even more Californians without insurance, and hurting all consumers.
It would seem that Mr. Joseph sees this proposition as a tool for poaching customers from his competitors. Is he attempting to grab a bigger share of the marketplace? Mr. Joseph has poured tons of money into this effort through the years and keeps losing.
This time, however, he has spent $16 million, roughly 98% of the campaign for Prop 33. This initiative would allow auto insurers to offer discounts to drivers who have maintained coverage without a break, which is known as "persistency."
That sounds innocent enough at first glance. As a California insured automobile driver, the idea of a discount sounds good, especially since as a responsible driver and consumer I have always maintained coverage without a break. But, what I want to point out here is that this proposition is a manipulative attempt to significantly change the law in Mr. Joseph's favor. The law currently allows auto insurers to offer such discounts only to customers who have maintained unbroken coverage with their current carrier, not with others. The flip side of a discount is a higher charge if you don't qualify for the discount.
Who hasn't been tempted to switch auto insurance carriers—even midway through their policy? There is no penalty to doing so and all unused portions are refunded. However, the reason some consumers stay with their current carriers is, under current law, to keep a discount by remaining with the same carrier over time.
What would likely happen if this proposition passes? Insurance companies would be able to charge higher rates for new customers without prior insurance; that's explicitly barred by the 1988 insurance reform measure Prop 103, which has led to substantial reductions in California auto insurance premiums overall. How would this proposition effect young drivers who have not been insured before? Is this proposition likely to increase the amount of uninsured drivers on the road? I think so.
By making auto insurance more expensive for exactly the people who need a reasonably priced policy—young and low-income drivers—Prop 33 would drive up the number of uninsured drivers on California roads.
The opposition to this Prop 33, a Consumer Watchdog organization co-founded by consumer advocate Harvey Rosenfield, the author of Prop 103, believes there is a disconnect between what is being told to the public and what Mr. Joseph's goals are. The campaign is not aimed to "insure more Californians" by encouraging "those who don't have car insurance to obtain it." Mr. Joseph sees this as a tool for poaching customers from his competitors, and he would charge new customers a higher rate. I have known Harvey for many years, and although we have not always seen eye to eye on all issues, I know that Harvey sincerely cares about California consumers and if Harvey Rosenfield is against Prop 33, this proposition is most likely bad for consumers.
Prop 33 attacks Prop 103, which, since enacted through to 2005, has lowered California auto insurance rates from 3rd highest to 18th in the nation.
Why would we want our auto insurance rates to go up? Seems more like a personal vendetta on Mr. Joseph's part, as he has been donating money to this cause for years.
Prop 103 barred the basing of auto rates on anything other than a driver's safety record, years of driving experience and miles driven annually. It allowed other factors that could be shown to have a substantial relationship to the risk of loss, including a driver's longevity with his or her current carrier.
Let's stop George Joseph from manipulating public policy and keep California auto insurance rates as reasonable as possible.
About the author: Claude Wyle is an aggressive advocate for San Francisco motorists and consumers. Claude has decades of experience representing those harmed by the wrongful conduct of others, and, as a Bay Area personal injury attorney, has fought to protect the rights of injured adults and children throughout his legal career.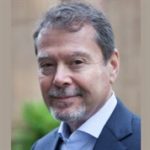 Claude A. Wyle is a partner of Choulos Choulos, and Wyle, a San Francisco based law firm dedicated to representing clients who have been injured by the wrongful conduct of individuals, corporations, public entities, and businesses. Mr. Wyle also frequently sits as a Judge Pro Tem for the city and county of San Francisco.