Manitowoc, Wisconsin – A bicyclist who was struck by a car, becoming lodged in the windshield, was close enough to the driver to say "Hello, I'm the guy you hit on the bicycle", but did he even see him?
The driver, after striking the man, continued to run a stop sign and hit another vehicle before arriving home, where he finally noticed the injured bicyclist.
"He looked at me and said 'Who are you? What are you doing in the car?'" Gove said. "He started freaking out: 'I'm going to jail, I'm going to jail.'"
Gove pulled himself out of the car, after the driver had locked the car doors and went into his home.
"I righted myself and got out," he said. "I unlocked the passenger's side door and started walking down the street."
A witness saw Gove, called the police, and then took him to the hospital. He was treated for glass cuts on his body and eyes.
The driver was found at his home, treated for a serious cut to the hand, and is facing several charges related to the accident, such as suspicion of drunk driving, hit and run, and failing to render aid. No charges have been formally filed.
Gove was shocked, and has no idea how the driver couldn't have seen him.
"I was wearing my blue overcoat with my neon reflective vest," said Gove. "I had my front and rear flashers on. I have no idea why he didn't see me."
Other similar accidents have been reported, most notably, in 2007, where a Green Bay driver continued home after hitting a 50 year old man, claiming he never saw the man stuck in his windshield. The driver was sentenced to 15 years in prison.
These stories bring up an interesting discussion. Could the driver really have not seen the man lodged in his windshield? It seems unlikely that you could drive all the way home without noticing someone stuck in your car, but with similar events happening all over the country, it's worth a second look. Perhaps these drivers just need to be more aware of their surroundings, and be checking both the road, and their car. It appears Gove had done everything right, he was wearing reflective clothing and had blinking lights on his bike, so the real question is, how was he not seen?
Hello, I'm Claude Wyle, a San Francisco bicycle accident attorney. Have an idea for a topic you'd like to see covered here? Feel free to contact me: cwyle@ccwlawyers.com or visit www.ccwlawyers.com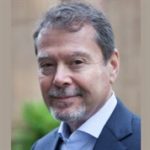 Claude A. Wyle is a partner of Choulos Choulos, and Wyle, a San Francisco based law firm dedicated to representing clients who have been injured by the wrongful conduct of individuals, corporations, public entities, and businesses. Mr. Wyle also frequently sits as a Judge Pro Tem for the city and county of San Francisco.