A bicyclist was killed last Thursday, May 23, 2013, when he was struck and run over by a Recology garbage truck in San Francisco's Mission District. The accident was reported at 6:45am, on 16th Street and South Van Ness Avenue. The driver, who has been cooperative with police investigators, did not appear at the time to be under the influence of any drugs or alcohol at the time of collision. Sadly, the cyclist died at the scene.
Although investigation is ongoing, it seems that the truck driver, who was allegedly making a right hand turn onto South Van Ness from 16th, failed to notice the cyclist to the truck's right, striking and dragging the rider as the garbage truck continued towards 17th street.
The deceased rider, Dylan Mitchell, had recently moved to San Francisco to begin an apprenticeship with the International Brotherhood of Electrical Workers, and he was struck on his way to work. My heartfelt condolences go out to the Mitchell family. This decedent cyclist's family should immediately hire an experienced bicycle accident attorney who will retain the right investigator and make sure that the Recology company is held accountable for their loss. If called, I would gather all evidence available and preserve the evidence to use in accident reconstruction later. Physical evidence at the accident scene needs to be recorded as soon as possible. We cannot count completely on the SFPD to do this job for us.
Mitchell was not wearing a helmet at the time of impact and, according to police, may have been traveling at a very high rate of speed when the collision occurred.
Police have not identified the driver, and Recology, the trash collector, has declined to comment.
And what about the truck driver's conduct? Was the driver fatigued that morning? Had he slept enough the night before? Had he worked too many hours? Was the driver properly trained in safety procedures? Did Recology hold regular safety meetings so their drivers would be prepared for encounters with San Francisco bicyclists? San Francisco is a bicycle friendly city and our garbage trucks should expect cyclists to be sharing the roads. And did this driver simply not look for bicycle riders to his right because it was so early in the day? Were the truck's mirrors properly affixed and maintained and did the driver properly check his mirrors? These are questions, among many, that a San Francisco bicycle attorney should be asking when he or she is asked to help the family of Dylan Mitchell.
So, what have we as cyclists learned so far from this tragic story? First of all, if you are on a bicycle and you are going to pass a vehicle on the right, make sure that you know what the motorist has planned, and make sure that the motorist sees you before you start your pass. While a bicycle rider may have the right to pass a vehicle on the right, as a San Francisco bicycle accident attorney, I get calls on this type of case at least once a week. The bicycle passing on the right vs. a right turning vehicle scenario is common and often produces catastrophic injuries or a bicycle fatality such as above. Motorists must maintain a proper lookout, and this garbage truck driver probably should have checked his side mirrors before initiating his turn. This truck driver could have and should have seen this cyclist, but if the cyclist was speeding toward the intersection, perhaps the fault is shared between the two parties. The problem looking back in time and trying to affix responsibility and enforce accountability is that in a physical conflict between a bicycle rider and a car or truck, the bicycle rider always loses. While the cyclist may win a lawsuit later, or their surviving family may prove fault and win the case, we cannot as attorneys turn back the clock and undo the harm. Our job as trial lawyers is to make the wrongdoer accountable, and this helps the survivors, however we cannot make our client whole again, except financially. So, please remember to wear whatever safety gear is available, and ride defensively, even if you have the right of way.
Hello, I'm Claude Wyle. Have an idea for a topic you'd like to see covered here? Feel free to contact me: cwyle@ccwlawyers.com or visit www.CCWlawyers.com.
[image credit: Ellen Huet/The Chronicle]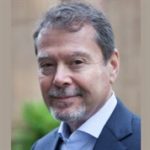 Claude A. Wyle is a partner of Choulos Choulos, and Wyle, a San Francisco based law firm dedicated to representing clients who have been injured by the wrongful conduct of individuals, corporations, public entities, and businesses. Mr. Wyle also frequently sits as a Judge Pro Tem for the city and county of San Francisco.