Reza Eslaminia, a former member of the Billionaire Boys Club, is wanted by authorities after his involvement in a hit-and-run accident that killed a pedestrian in the Tenderloin area of San Francisco.
Eslaminia, who previously served jail time after being convicted of killing his own father, was driving a cab for the Luxor Cab company, when he allegedly ran a redlight, causing his car to spin out of control, killing Edmund Ralph Capalla.
"This case illustrates the dangers in our streets when drivers don't obey the rules", remarked George Gascon, the San Francisco District Attorney, in regards to the accident.
Prosecutors believe they have enough evidence to substantiate the charges filed against Eslaminia, with video, diagrams, and witness statements corroborating the event.
Eslaminia, a once prominent Los Angeles resident, was known for his get-rich quick schemes. Originally serving jail time for the murder of his father, Hedeyat Elsaminia, his conviction was overturned after a star witness entered the witness protection program and was unable to testify.
Hello, I'm Claude Wyle. Have an idea for a topic you'd like to see covered here? Feel free to contact me: cwyle@ccwlawyers.com or visit www.CCWLawyers.com.
[Image credit: The Republic]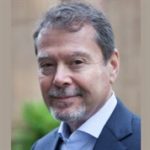 Claude A. Wyle is a partner of Choulos Choulos, and Wyle, a San Francisco based law firm dedicated to representing clients who have been injured by the wrongful conduct of individuals, corporations, public entities, and businesses. Mr. Wyle also frequently sits as a Judge Pro Tem for the city and county of San Francisco.