I have devoted my career to making drivers who cause fatalities accountable! Regardless, I am still shocked and saddened when I read about a fatality caused by a careless driver. When the core cause of wrongful death is simple distracted driving, it's just so much worse because the accident could have so easily been avoided.
Pedestrian fatalities are all the more tragic when the victim is a 2-year-old child.
December 2010, Calli Murray, was crossing the street holding her mother's hand. 18-year-old Kaitlyn Dunaway ran them down with her car. Was she paying attention to the road? No, she was texting from her cell phone while driving her car. As a result of this predictable preventable failure to keep a proper lookout, this texting while driving fatality occured.
Texting while driving is one of the most insidious forms of distracted driving.

Our San Francisco Bay Area streets are unfortunately getting famous for serious personal injuries and fatalities from negligent driving. Distracted driving is one of the leading causes. I wonder how we are going to stop this epidemic!. Why is it that the laws get increasingly stricter, fines larger but people are still talking on their cell phones and even texting while they are driving their cars? And am I not the only one who has seen the same police officers who issue cell phone tickets turn around and talk on their own cell phones, all while driving their squad cars?
Has our educational system failed to get the message to otherwise responsible people who are instead compulsively glued to their cell phones? Parents can begin to draw the line by teaching our younger generation. Lead by example: don't text while driving in front of your children for starters!
As a San Francisco Bay Area Pedestrian Accident Attorney, I cannot stress enough how important it is to keep all eyes on the road in front of you, your mind on the car you are driving and your hands on the wheel. When you are driving a car, you are operating a potentially lethal weapon. Failure to keep a proper lookout for a few seconds can result in serious personal injury or wrongful death.
I've written about the dangers of distracted driving (accompanied with a video by the U.S. Department of Transportation) before for a reason. The danger of distracted driving is growing so exponentially so I feel the need to repeat a few points:
There are three main types of distraction:
Visual — taking your eyes off the road
Manual — taking your hands off the wheel
Cognitive — taking your mind off what you're doing
While all distractions can endanger drivers' safety, texting from a cell phone while driving is the most alarming because it involves all three types of distraction.
A high percentage of accident-related personal injuries result from auto and truck accidents, particularly with motorcycle and bicycle riders and with pedestrians. Driver inattention is a major contributing factor to serious injuries and wrongful death.
Please feel free to contact me if you have any constructive suggestions to discuss on how we all, as a community, can make our streets safer, or if I can advise you about your rights in relation to an accident caused by distracted driving.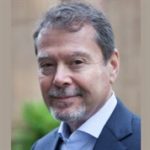 Claude A. Wyle is a partner of Choulos Choulos, and Wyle, a San Francisco based law firm dedicated to representing clients who have been injured by the wrongful conduct of individuals, corporations, public entities, and businesses. Mr. Wyle also frequently sits as a Judge Pro Tem for the city and county of San Francisco.