What is going on out there with cars and bikes? From Oakland Police and witness accounts, on the evening of July 4th, a motorist killed a bicycle rider. While these types of collisions are happening way too often, we rarely learn that the death of the cyclist was intentional.This horrific bicycle hit-and-run occured on the evening of July 4th at International Blvd at 81st Ave in Oakland, taking the life of a bicyclist who was in his 40's.
Investigators believe that this death was intentional. They found skid marks near the scene of the crime which would tend to indicate that the driver saw the bicycle before striking him. Further evidence by an eyewitness suggests that the driver was gunning for the cyclist intentionally. The witness is quoted as saying,
"They saw him. They saw him. It was intentional."
To make matters worse, Oakland police say that after the collision, the driver actually accelerated and dragged the fellow another 100 feet before he fell off the vehicle, and then continued without stopping to render any aid.
As a Bay Area Wrongful Death Attorney and Bicycle Accident Lawyer, I concur with the Oakland police's assessment that if the car was aiming for the cyclist, that would make the incident a homicide.
Although police do not have conclusive evidence that the cyclist was in fact maliciously targeted, circumstantial evidence points in that direction. The case is currently being investigated as a felony hit-and-run, and there are plans to review nearby surveillance videos.
The assailant also has not been captured. The only information the police have is the dark-colored, older-make American sedan with windshield damage.
My condolences go out to the family of the cyclist who has been identified, and I hope that they catch the hit-and-run driver.

About the author: Claude Wyle is an aggressive advocate for San Francisco Bay Area pedestrians and bicycle riders. Claude has decades of experience representing those harmed by the wrongful conduct of others, and, as a San Francisco Bay Area personal injury attorney, has fought to protect the rights of injured adults and children throughout his legal career.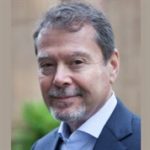 Claude A. Wyle is a partner of Choulos Choulos, and Wyle, a San Francisco based law firm dedicated to representing clients who have been injured by the wrongful conduct of individuals, corporations, public entities, and businesses. Mr. Wyle also frequently sits as a Judge Pro Tem for the city and county of San Francisco.