The Annual Marin Bike To School events went forward this year, however with an air of melancholy. Most attendees reflected on the recent tragic death of 12-year-old Hailey Ratliff in Novato last week, killed while riding her bicycle home from school.
The County of Marin has been steadily increasing its support for the Safe Routes to School program (of which we are a proud sponsor), encouraging students to walk and ride their bicycles to school to contribute to healthier lifestyles while reducing traffic and pollution. Safe Routes to School started as a grassroots effort and is now administered by the Transportation Authority of Marin.
Wendi Kallins, program director for Safe Routes to School, said,
"We are all deeply saddened by what happened. It was awful. It means we have to be even more dedicated to safety and remind children and parents to take safety precautions. It also means drivers need to slow down."
As a Marin County Bicycle Safety advocate, bicycle accident attorney and bicycle enthusiast, I am proud to report that Marin's Safe Routes to School program includes more than 50 schools now, and has been growing steadily for 12 years. Thankfully, the program has spread across the country and is now established within transportation departments in all 50 states.
Measure A, a quarter-cent sales tax, in 2004 is responsible for providing about $2 million per year for the program:
$850,000 for crossing guards
$650,000 for school education programs
$500,000 for capital projects such as improving or building sidewalks
The goal, of course, is to make the journey to and from school safer for our children. It also raises awareness for parents and children alike. Always evolving, new maps of the safest travel routes to walk or bike are always being developed. Only if we continue to make bicycling and walking to school safer will we encourage parents and children to use one less car to get to school. And safer infrastructures help increase our property values, decrease congestion and pollution and contribute to the fitness of children who bike or walk to school.
About the author: Claude Wyle is an aggressive advocate for Bay Area bicyclists. Claude has decades of experience representing those harmed by the wrongful conduct of others, and, as a Marin County bicyclist and San Francisco bicycle accident attorney, has fought to protect the rights of injured cyclists throughout his legal career. Claude is also an avid cyclist himself and member of the Marin County Bicycle Coalition, San Francisco Bicycle Coalition and Silicon Valley Bicycle Coalition and is a sponsor of Safe Routes to School.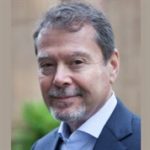 Claude A. Wyle is a partner of Choulos Choulos, and Wyle, a San Francisco based law firm dedicated to representing clients who have been injured by the wrongful conduct of individuals, corporations, public entities, and businesses. Mr. Wyle also frequently sits as a Judge Pro Tem for the city and county of San Francisco.