The San Francisco Police Department is investing a San Francisco pedestrian fatality involving an elderly pedestrian, who was struck and killed this past week by the very same para transit van in which she had just been riding.
The San Francisco fatal pedestrian accident occurred around 10:45am last Thursday when the woman, while using her walker, was crossing the intersection of Franklin Street and Geary Boulevard, a notoriously busy intersection.
According to a San Francisco Police report, the elderly pedestrian was in front of the van as it accelerated, striking her and dragging her 25 feet across the intersection.
"They are still trying to figure out whether it was traffic signals or something else happened, mechanical failure" said Giselle Talkoff, a police officer with the San Francisco Police Department.
Officials are investigating surveillance videos from the area to determine exactly what events occurred to lead up to this woman's death.
"We need some type of safety, or somebody here guarding us" said Daisy Brooks of Senior Disability and Action.
Doubly ironically and tragically, the victim was traveling to the same place as Brooks when she was struck, a meeting hosted by Senior Disability and Action regarding safety on San Francisco streets. How terrible that a woman who was attending a meeting to contribute to the safety of the elderly on San Francisco streets is run over by the very van in which she had been riding.
Although the paratransit service is a San Francisco run program, a private contractor is utilized to actually drive the passengers around the city. The driver involved in this crash is a veteran operator, but it was reportedly his first time on this route. He stopped after striking the pedestrian and is cooperating with police.
We all know that San Francisco's city streets are unsafe for pedestrians. I see cases like this almost daily in my role as a pedestrian accident attorney who handles the wrongful death of pedestrians, and I have personally handled several cases against various paratransit companies. As a service provider for the elderly this company had to have known she was still in the area surrounding the bus and this driver should have checked to be sure she wasn't near the bus orright in front of the bus, before moving through the intersection.
In California, a van driver carrying a passenger is called a "common carrier". The common carrier status continues even after the passenger has disembarked the van, and the driver still owes this passenger the highest standard of care, not just the duty to act reasonably. This higher standard of care for common carriers is one of the benchmark rules that protects all pedestrians who are getting into or out of a vehicle which has been carrying them. There does not need to be payment for a vehicle operator to be a common carrier.  It seems to me that this van operator owed this woman the highest standard of care and that this conduct would fall below the standard of care. That means that this driver and the company who employed him are probably negligent in their operation of this van.
Hello, I'm Claude Wyle, a San Francisco pedestrian accident attorney. Have an idea for a topic you'd like to see covered here? Feel free to contact me or visit www.ccwlawyers.com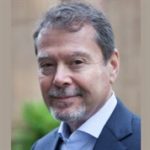 Claude A. Wyle is a partner of Choulos Choulos, and Wyle, a San Francisco based law firm dedicated to representing clients who have been injured by the wrongful conduct of individuals, corporations, public entities, and businesses. Mr. Wyle also frequently sits as a Judge Pro Tem for the city and county of San Francisco.