A South San Francisco woman was struck by yet another hit and run driver while walking her dog this last Tuesday. The dog was killed and this woman suffered severe brain injuries. Although she is expected to survive this pedestrian accident, she will have to live with the day to day nightmare of serious head trauma. Some people in a following car chased the hit and run driver, but have yet to report what they saw to the police. No one has admitted to the pedestrian accident. Anyone with information, as well as the drivers of the vehicles that chased the suspect, are encouraged to call the South San Francisco Police Department Traffic Unit at (650) 877-8900. Hit and run claims are covered under the uninsured provisions of a person's family, so this woman's family should immediately file a claim for uninsured benefits under their own auto insurance policy, plus any medical payments benefits available. I am sure that this family's own insurance carrier will pay the policy limits
to the family without the need for an attorney. If you need help, please feel free to call upon us.
For more information on this subject matter, please refer to the section on Head and Brain Injury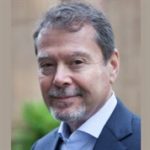 Claude A. Wyle is a partner of Choulos Choulos, and Wyle, a San Francisco based law firm dedicated to representing clients who have been injured by the wrongful conduct of individuals, corporations, public entities, and businesses. Mr. Wyle also frequently sits as a Judge Pro Tem for the city and county of San Francisco.