Halloween is San Francisco's favorite holiday for costumes and crazy fun. Kids and adults will be roaming the neighborhood dressed in their finest outfit incognito, and most people will be on sugar overload. The night always promises to be eventful and adventurous.
However, as a San Francisco Bay Area Personal Injury attorney, I wear different glasses on Halloween. I think of all the safety precautions that should be made, and are often missed. Safety, afterall, is number one and should have priority over everything. If our children are safe, then we parents can have fun too.
Fires. Every jack-o-lantern, torch and candle you pass, both indoors at your costume party or outdoors on your trick-or-treating path, will be lit. Although the ambience with candlelight is special, and spooky, beware unattended fires gone wrong. We especailly do not want our children near a fire danger, and children in masks and costumes have a more difficult time seeing hazards. Please please please be safe with your candles and pumpkins. And parents, please keep the little ones a safe distance away from open flames.
Moreover, select flame-retardant materials for your costumes, including the accessories. And I know it's not as cool, but there are battery-operated candles and lights that can be used instead of open-flame.
See and Be Seen.Of course the evening will start during the sunset hour with lots of hustle and bustle, and we will all be able to see where we are going. But as the night rolls on, you will undoubtedly find yourself in a dark area at one point or another during the night where you cannot see as well. Amidst all the craziness, it's easy to misstep into a lit fire, walk out in front of a moving car, or even fall on a bumpy sidewalk or in someone's front yard over a dark hole or grave.
It's important to trim costumes and outer wear which hang to the ground so that you do not trip or contact open flame. It's also important–not to mention fun (even for adults)–to carry a flashlight or a glow stick. Remember the key here is to be safe. Being seen after dark is safe.
I apologize for taking some of the fun out of Halloween; however, most parents will enjoy Halloween far more knowing that they have taken adequate precautions to increase their children's' safety. On behalf of Choulos, Choulos & Wyle, have a happy and safe Halloween.
About the author: Claude Wyle is an aggressive advocate for Bay Area personal children's safety. Claude has decades of experience representing those harmed by the wrongful conduct of others, and, as a San Francisco Bay Area personal injury lawyer, has fought to improve pedestrian and children's safety throughout his legal career.
image by simeon schatz photography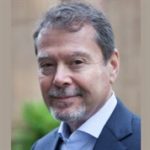 Claude A. Wyle is a partner of Choulos Choulos, and Wyle, a San Francisco based law firm dedicated to representing clients who have been injured by the wrongful conduct of individuals, corporations, public entities, and businesses. Mr. Wyle also frequently sits as a Judge Pro Tem for the city and county of San Francisco.