Cyclists ride for pleasure, for exercise, for work, as well as to get from point A to point B. Most bicycle riders understand the need to be cautious and aware of all of their surroundings as they interact with motorists. This includes paying attention not only to motorists and other users of the roadway, but also to pavement conditions and to the surrounding environment in which they are cycling. Unfortunately, these days, throughout the San Francisco Bay Area, there are many roadways that have become hazardous because they haven't been adequately repaired or well-maintained. Several types of road hazards can and do cause bicycle accidents and serious personal injuries to bicycle riders. Some dangerous roadway conditions even cause fatalities.
As motorists, we usually don't give too much thought to the pavement condition of San Francisco or Oakland roadways or concern ourselves with the roadways that keep our city traffic flowing smoothly. Drainage systems, roads and bike lanes are all part of the vast network of infrastructure that can make a roadway either safe or dangerous for bicyclists. Most taxpayers have very little input or say when it comes to where bicycle-friendly infrastructure is installed. Most motorists don't spend too much time pondering who is responsible when the city, municipality or county fails to maintain striping or traffic signals, or to maintain drains, ditches, sewer covers or roadway pavement, and we usually don't ever learn if a defective or dangerous roadway condition has caused a bicycle accident.
Many accidents that involve bicyclists can cause far more serious and even catastrophic injuries to cyclists than to the average motorist. If a bicyclist suffers serious personal injuries due to a defective or dangerous roadway condition, the injured bicyclist or their family should retain an experienced bicycle accident lawyer to assure accountability and responsibility on the part of the public entity who failed to maintain the roadway. A cyclist should not be found entirely at fault or responsible for their injuries if the road was improperly maintained in a dangerous condition, and if the dangerous condition of the roadway contributed to causing the cyclist's injuries. 
Most streets in most cities were built for cars, not bicycles, with road conditions tailored to motorized vehicles, not bicycles. However, if a bicyclist is harmed by a defective condition on a roadway like a cracked and dangerous pavement condition, and if that cyclist files and pursues a claim, more attention will undoubtedly be paid to those places in California with poor pavement, damaged road surfaces, and poorly maintained roads and infrastructure components. Traffic engineers have an old saying "you scratch where it itches," meaning that if there are more accidents and more claims at a given location, the public entity is more likely to repair the dangerous roadway.
Who Is Responsible for Dangerous California Streets?
Under California's dangerous condition of public property law, cities, municipalities and counties, and even the State of California can and should be held accountable if a dangerous condition of the pavement or roadway infrastructure creates a substantial risk of injury when that roadway is being used in a manner in which it was foreseeable that it would be used. In the case of a bicycle accident and bicycle rider injuries caused by poorly maintained pavement, filing a claim and then a lawsuit against a city, county or municipality will draw needed attention to pavement and road conditions and the condition of other surrounding infrastructure that may have contributed to the accident. 
Ways California Road Hazards Are Identified
The U.S. Department of Transportation conducts Road Safety Audits (RSA). Each audit is conducted by an independent, multidisciplinary team with expertise in roads and infrastructure. The goal of RSA is to identify problem areas, which type of users (pedestrians, cyclists or motorists) the problem areas target and suggest countermeasures to reduce the challenges. Often RSA is conducted as part of the pre-planning, planning or construction phase of building a new roadway.
Audits can also be conducted on existing roadways. Suppose the municipality is aware of poor pavement and other infrastructure that pose a danger to cyclists. In that case, an RSA could be conducted to have a full account of the surrounding environment, including the road surface and the appearance of infrastructure. It's important to note that RSA considers the factors that have contributed to accidents in the past. So reporting the accident and filing lawsuits against the municipality is vitally important to reducing the potential for future accidents and injuries. By holding someone accountable for wrongdoing, cyclists are improving the quality of roadways for all users of those roadways and reducing the potential for future accidents.
Related: Infrastructure Improvements Make California Streets Safer for Biking
Cyclists are aware of the dangers they face by sharing the roads with motorized vehicles. However, when cyclists experience accidents that can be directly tied to the condition of the road surface they were utilizing, someone needs to be held accountable. Should this occur to you, know that you have legal avenues to explore. By seeking legal advice from an attorney familiar with dangerous roadway accidents, you are helping to improve cycling infrastructure and safety for anyone riding a bicycle on public roads.
If you or a loved one has been injured in a California bicycle accident caused by poor pavement, or a dangerous condition of public property, you should seek legal help from an experienced San Francisco bicycle accident attorney as soon as possible. At Choulos, Choulos & Wyle, our bicycle accident attorneys are also avid cyclists, who understand the dynamics of bicycle collisions and their causes. Contact us online for a free consultation of your case or call (415) 432-7290. All calls and email inquiries are covered by the attorney-client privilege and are strictly confidential.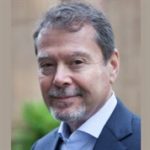 Claude A. Wyle is a partner of Choulos Choulos, and Wyle, a San Francisco based law firm dedicated to representing clients who have been injured by the wrongful conduct of individuals, corporations, public entities, and businesses. Mr. Wyle also frequently sits as a Judge Pro Tem for the city and county of San Francisco.