A San Francisco bicyclist is in critical condition after an accident this past Tuesday in San Francisco.
According to the San Francisco Police Department, officers responded to an automobile and bicycle collision on 6th and Folsom streets, when a Lexus and Prius taxi collided, causing the Prius taxi to hit and to severely injure a nearby bicyclist.
The cyclist was taken to the hospital with life threatening injuries.
Oddly this San Francisco bicycle accident occurred at the very same intersection where 24 year old Amelie Le Moullac was killed in 2013, when she was run over by a truck while riding her bike. I have blogged extensively on this previous fatal bicycle accident and the lawsuit that followed, and that is one reason why I felt I should also bring up some of the issues I see that may arise in this two car-bicycle accident.
First, there is no allegation in this story that the cyclist did anything wrong to contribute to their own injuries. It would seem that liability would be between the two car drivers who collided and caused the taxi to hit the bicyclist. I would hazard a guess at this point that the automobile crash was caused by a combination of factors including perhaps negligence of both drivers. And, since we had such a horrible fatal bicycle accident just two years ago at this same location, should the City be looking at the safety of its roadway? Sometimes, even if one or more driver is negligent and played a part in causing a collision, the condition of the roadway itself can be a substantial factor and also contribute to causing the harm to the injured bicyclist. What if the traffic signals were not properly functioning or what if there was a dangerous feature of this roadway that brought these two drivers together? In any event, I am wishing this injured San Francisco cyclist a fast recovery and Ihope that the SFPD releases further information about the collision so we can all better understand just what happened to cause such horrific consequences for this cyclist. And, if we better understand what causes collisions, we can work to help avoid further injuries in the future.
Hello, I'm Claude Wyle, a San Francisco bicycle accident attorney. Have an idea for a topic you'd like to see covered here? Feel free to contact me or visit www.ccwlawyers.com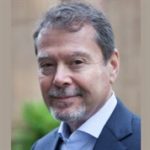 Claude A. Wyle is a partner of Choulos Choulos, and Wyle, a San Francisco based law firm dedicated to representing clients who have been injured by the wrongful conduct of individuals, corporations, public entities, and businesses. Mr. Wyle also frequently sits as a Judge Pro Tem for the city and county of San Francisco.