I've been saying it for years, it's just not safe to have drivers pulling double duty. Across the City, professional bus drivers are not only navigating the dangerous streets of San Francisco, but also narrating the journey and pointing out the sights as they go. This distracting practice is not only dangerous for the bus passengers, but is alsodangerous for those pedestrians and cyclists and motorists with whom buses share the road. This tour bus driver distraction discussion comes hot on the heels of the pedestrian death of a 68 year old city employee Pricilla Moreto, who was killed in a crosswalk in front of City Hall last month.
The police investigation has recently determined that the bus dressed as a cable car struck Ms. Moreto while the driver was showing his passengers San Francisco City Hall, and while he was describing the points of interest to his tourist passengers, instead of keeping his eyes and his mind on the road in front of him. This tour bus company's requirement that this driver pay such close attention to the sights of San Francisco at the same time that he is supposed to be 100% focused on safe driving makes Ms. Moreto's death completely preventable.
Many, including the National Federation of Filipino American Associations, are calling for action: "We're asking the board of supervisors to introduce a resolution to see if the city attorney can pass legislation to prohibit tour guides to be driving tour buses at the same time," said Rudy Asercion, a spokesperson for the group.
Action on the part of the state, city, and local government, could not only begin systemic changes throughout the transportation industry, but would act as a symbolic gesture to all those who have lost loved ones due to preventable pedestrian accidents. As a San Francisco pedestrian accident attorney, I encourage everyone to speak up and to help put a stop to this dangerous practice or required distracted driving. Please, San Francisco. Let's pass a law requiring that all tour bus companies have either recorded tours or a separate employee on the microphone describing the sights. We simply cannot allow tour companies to purposefully distract their drivers when such a simple solution is available.
Hello, I'm Claude Wyle, a San Francisco pedestrian accident attorney. Have an idea for a topic you'd like to see covered here? Feel free to contact me or visit www.ccwlawyers.com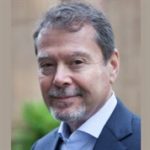 Claude A. Wyle is a partner of Choulos Choulos, and Wyle, a San Francisco based law firm dedicated to representing clients who have been injured by the wrongful conduct of individuals, corporations, public entities, and businesses. Mr. Wyle also frequently sits as a Judge Pro Tem for the city and county of San Francisco.