A San Jose pedestrian Willy Umali, who was struck by a vehicle reversing on Leeward Avenue this past Saturday is dead, whilethe driver Rickey Lartigue was arrested on suspicion of drunk driving. Our sincere condolences go out to the Umali family. This pedestrian death seems so absolutely useless, so predictable and so preventable.
This car vs. pedestrian accident occurred at approximately 5:45pm, when, the driver, stopped on Leeward Avenue in East San Jose, a residential street, and then began backing up.
Willy Umali, 43, was walking behind the vehicle, was run over and was killed. Mr. Umali was taken to Regional Medical Center in critical condition and pronounced dead at 11:58 the next morning.
At the time of writing this post, Latrigue was being held without bail in the Santa Clara County Jail.
So what have we learned from this tragic pedestrian death? What do we see over and over again when drivers are backing up? This pedestrian death was predictable and therefore so preventable. The rule is that when you are backing a motor vehicle either into traffic or out of your parking space or over the sidewalk, you must yield to other vehicles and of course to bicycles and to pedestrians. We know that many motor vehicles have blind spots which make seeing pedestrians as we are backing up very difficult indeed. Still it is the job of a driver to look for traffic and for pedestrians and to maintain a proper lookout. That means to look for what there is to look at and to see what there is to be seen. That means to be traveling at a speed where you can control your vehicle, and stop in time before you harm someone. If this driver Lartigue was intoxicated, then his perception reaction time would be even slower than the usual driver, and he should have been traveling even slower. This pedestrian death is legally the reversing driver's fault.
But, what could the pedestrian have done to help himself? Did the driver start in reverse so suddenly that the pedestrian had no chance to get out of the way? Or was the driver in reverse and backing up for an appreciable time before the pedestrian walked behind the car? As a personal injury attorney, I am a bit paranoid. If I see a white reverse light come on, I won't cross behind that vehicle unless and until I have made eye contact with the driver and I know that they are letting me go. I won't even walk behind a car when I see the exhaust coming from the tailpipe because I know how fast these events can unfold. I teach my daughter the same thing whether crossing the street behind a running car or truck or walking in a crowded parking lot. If the engine is on this means danger. If the reverse lights come on this means DANGER! And a pedestrian should either not cross behind the vehicle or should scurry out from behind the vehicle. We have so many huge vehicles on the road today, and so many distractions, whether they be children in the backseat, dogs, cell phones, or a spilled cup of coffee. If you cannot see the eyes of the driver who is backing up, you should not expect that they see you at all. I am sorry to be so preachy, and I do not mean to insinuate that Mr. Umali did anything wrong, but as pedestrians, we all must watch out for ourselves and practice defensive walking.
About the author: Claude Wyle is an aggressive advocate for San Francisco and Marin county pedestrians. Claude has decades of experience representing those harmed by the wrongful conduct of others, and has fought to protect the rights of injured people throughout his legal career. Have an idea for a topic you'd like to see covered here? Feel free to contact him: cwyle@ccwlawyers.com or visit www.ccwlawyers.com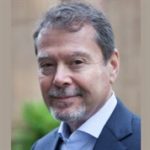 Claude A. Wyle is a partner of Choulos Choulos, and Wyle, a San Francisco based law firm dedicated to representing clients who have been injured by the wrongful conduct of individuals, corporations, public entities, and businesses. Mr. Wyle also frequently sits as a Judge Pro Tem for the city and county of San Francisco.