The statistics are chilling. The most common cause of death in teens from 14-19 years old?
Traffic Accidents.
The most common reason?
Texting.
Although you may have heard a different answer a few years ago, when drunk driving or careless driving were topping the charts, smartphones have become increasingly more mainstream and texting, web surfing, and social networking while driving have taken their place at the top as the most common reasons for teen accidents causing death. In fact, over 30% have admitted to texting behind the wheel.
And why would other teens in the car put up with their driver texting while driving? Probably because the teen passengers are texting as they ride in the car as well.
Looking to curb your teen's texting? Use some of the following points to illustrate the dangers of texting/surfing while driving:
It's Dangerous – according to the CDC, over 3000 people are killed each year due to distracted driving. With over 50% of the teens today admitting to texting behind the wheel or distracted driving, they run a much higher risk of falling into that 3000 number.
It's Illegal – if danger doesn't stop you, the crime should. So far all but 12 states have banned the activity, and although some fines run as low as $50.00, other fines can total up to $400.00! This certainly falls outside of the "free texting" plan fees.
They are at fault – if someone is in an accident while they are texting, they're at fault! Phone records that prove a driver is texting or using a cellphone will almost automatically shift the blame to the individual using the device, and may invoke criminal charges such as reckless driving or criminal negligence. Criminal charges on top of monetary fines? Definitely not worth it.
As parents it is our job to educate your children, about their responsibilities behind the wheel, and the dangers of distracted driving. Have the easy conversation now, before you have to have a hard conversation later.
And as parents you must teach by example. You cannot effectively educate your children on the dangers of distracted driving if you are speaking on the phone or texting while driving. There simply has to be a no tolerance policy, even if you have an important business call to make. If the call is that important or you really need to check your emails, pull over when it is safe to do so and check your phone from a safe place.
I clearly remember when my father was driving his car kind of quickly around our neighborhood, and he said to me "don't ever drive like this", but was speeding. My response? Of course, I thought I had a free get out of jail free card. If I got caught doing what my dad was doing, then he couldn't be too mad at me, could he? Texting or otherwise using your phone in the car is the same thing.
Our firm just finished a case where a car driver was on his phone and made a lane change in front of a motorcyclist, causing the motorcyclist to fall down and to suffer serious fractures from her bike landing on top of her. The car driver denied making the lane change. The motorcyclist insisted that the car had turned right in front of her. When the jurors learned that the car driver had been using his cell phone while driving, they dismissed what the car driver had said simply because he must have been distracted by his phone. This just happened today.
Hello, I'm Claude Wyle, a San Francisco automobile accident attorney. Have an idea for a topic you'd like to see covered here? Feel free to contact me or visit www.ccwlawyers.com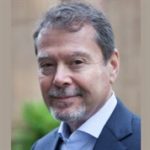 Claude A. Wyle is a partner of Choulos Choulos, and Wyle, a San Francisco based law firm dedicated to representing clients who have been injured by the wrongful conduct of individuals, corporations, public entities, and businesses. Mr. Wyle also frequently sits as a Judge Pro Tem for the city and county of San Francisco.