A 12 year old boy was killed outside of his middle school last month after being struck by a SUV driven by the mother of another classmate.
Burgess Hu, a student at Excelsior Middle School, was hit in front of the school as parents dropped their children off for the day. The boy, who was on the right shoulder of the road, was struck as a driver pulled out away from the school and onto the highway.
The boy, who was wearing a safety helmet, was pinned underneath the car.
John Fransen, a California Highway Patrol Officer, in commenting on the accident stated:
"She could not have been going any more than 10 (mph)," Fransen told reporters. "She's devastated. The parents of the 12-year-old boy are obviously devastated. It's just a tragic event that is going to devastate the little community here in a very hard way.
Investigators do not believe speed or alcohol were factors.
Chris Klemchick, an eyewitness to the accident told reporters: "It was just horrible, horrific. I don't know how else to explain it. He rides his bike every day. Everybody knows that child."
No charges have been filed against the woman, and no further information is being released regarding her identity.
"Children, teachers, staff and administrators are all very, very sad," Byron Union Schools Superintendent Debbie Burnette said.
The accident is still under investigation.
As a bicycle accident attorney, and an advocate for the injured, hearing of a child hurt or killed by a motorist is disheartening to say the least. Although it is unclear whether the woman should have seen the child, it is an important reminder to all of us to stay aware on the road and watch for bicyclists. Taking that extra second to check your surroundings could save a life. I don't enjoy reporting on serious injuries or deaths of bicyclists. What I am trying to do is to raise awareness of how these accidents happen and to point out ways that perhaps the accidents could have been prevented.
I drive my child to school every day. I know as an avid bicyclist I should encourage my own child to ride her bicycle to school like I did all the way through high school, however it seems to me that so many drivers are distracted these days, so many are in too much of a hurry and too many are just not paying attention, particularly at and around schools. Just last week, I learned of two children from my daughter's Middle School being hit by cars while in crosswalks. I want to urge all drivers to slow down near schools and around the times that children are getting to school and are getting out of school. Having represented parent who have lost their child to bad driving, I have learned how terrible it must feel to know that a child's death could have been prevented. So, and I am sorry to be preachy, when you are around a school or anywhere where children are likely to congregate, please slow it down a notch, put down your phone, and look around a little more carefully. Child pedestrians do make mistakes, and even if they make a mistake in front of your car, if you are not distracted, if you are paying close attention, perhaps that child will escape the consequences and learn a lesson without the pain of being hit by a car.
Hello, I'm Claude Wyle, an automobile accident attorney. Have an idea for a topic you'd like to see covered here? Feel free to contact me: cwyle@ccwlawyers.com or visit www.ccwlawyers.com.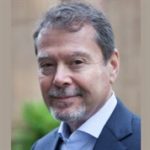 Claude A. Wyle is a partner of Choulos Choulos, and Wyle, a San Francisco based law firm dedicated to representing clients who have been injured by the wrongful conduct of individuals, corporations, public entities, and businesses. Mr. Wyle also frequently sits as a Judge Pro Tem for the city and county of San Francisco.