While the Court has become involved in the story about 32-year-old Dublin hit-and-run by lawyer Spencer Freeman Smith, there has not yet been a complaint filed. Does this mean there will be no prosecution? I sincerely doubt that this man will escape a criminal complaint, as he will probably be formally charged by his next court appearance.
No charges have yet to be filed against the lawyer involved in fatal hit-and-run to a bicyclist last week on Dougherty Road in Dublin. Now out on bail after his first court appearance Tuesday, Smith's arraignment has been set for late June. Smith stood in front of the judge for about a minute, but didn't say a word, except for a few whispered words to his lawyer. This is to be expected as the accused rarely would be allowed to speak if he is represented by counsel.
"Police are still investigating the case and no charges have been filed yet," Teresa Drenick of the Alameda District Attorney's Office said.
Smith is being represented by Bill Gagen, a long-time Bay Area trial attorney, of good repute.
Gagen made three points for the press:
How did the accident happen? What was someone doing in the middle of a busy intersection at 11:30 at night? Would any driver expect someone to be there?
What did Smith know and when did he know it?
He would not comment on why Smith didn't stop after the collision or why he didn't alert police immediately.
If Smith had called 911 after his collision with the bicyclist, and had waited at the scene, then he might be in a better position to question how the collision occurred. After you hit and run, leaving the victim for dead and try to hide the offending car, this may be a little late to be asking this question in my estimation.
Why was the decedent on his bike at this location at this time of night? Well, that question also would be best asked by a person who actually attempted to help the man after he hit him. Would any driver expect the bicyclist to be there? Well, a better question might be 'Should a driver operating his vehicle at night maintain a proper lookout and see what there is to be seen?'
What I am trying to say is that all of the defenses–and they may have been good defenses–to running over the bicyclist, should have been made under very different circumstances and then Smith would have had infinitely more credibility as he asked them.
As a San Francisco Bicycle Accident Attorney, I generally subscribe to the notion that justice delayed is justice denied; however, it takes time for the District Attorney's office to decide exactly what charges they will bring against Mr. Smith. In the meantime, the investigation will continue and perhaps a plea bargain will result before the arraignment.
I am reasonably sure that we can also expect the State Bar of California to initiate disciplinary proceedings against Mr. Smith as well, and they will most probably move to disbar him. The State bar only disciplines attorneys who have committed acts of moral turpitude. What does this phrase mean? Generally it means something unethical. For instance, evading one's taxes is unethical, however, just refusing to pay one's taxes may not be unethical. This type of distinction is made in state bar cases every day.
Clearly, the case against Mr. Smith has only just begun and we are likely to learn more about the facts as the court case unfolds. The truth may never be discovered since only Hu and Smith were actually at the scene of this fatal bicycle crash that night. The worst part is that he fled the scene, leaving the man to die, and that would be hard to deny. What will Gagen say to that? Did Mr. Smith think he had hit a deer?
On Monday May 28, a private funeral will be held for Bo Hu, the deceased. A Special Touch Funeral & Cremation Service in Dubin.
About the author: Claude Wyle is an aggressive advocate for San Francisco Bay Area bicyclists and pedestrians. Claude has decades of experience representing those harmed by the wrongful conduct of others, and, as a San Francisco pedestrian and bicycle accident attorney, has fought to protect the rights of injured cyclists and pedestrians throughout his legal career. Claude is also an avid cyclist himself and member of the Marin County Bicycle Coalition, San Francisco Bicycle Coalition and Silicon Valley Bicycle Coalition and is a sponsor of Safe Routes to School. He is also a member and lecturer of EDD, a group dedicated to End Distracted Driving.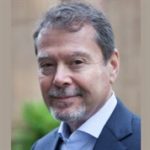 Claude A. Wyle is a partner of Choulos Choulos, and Wyle, a San Francisco based law firm dedicated to representing clients who have been injured by the wrongful conduct of individuals, corporations, public entities, and businesses. Mr. Wyle also frequently sits as a Judge Pro Tem for the city and county of San Francisco.