On Tuesday, May 15, 2012 a hit-and-run driver struck and killed 57-year-old bicyclist, Mr. Bo Hu, in Dublin, California. This fatal bicycle accident occurred on Dougherty Road near Fall Creek Road about 11:30 p.m. We just recently learned that the man arrested in regard to this bicycle hit-and-run is a local San Francisco attorney. While this driver is innocent until proven guilty, it seems that the parts of the car left at the scene of this bicycle death matched this lawyer's new Mercedes Benz, and that the Mercedes Benz found in this lawyer's garage had extensive damage which is consistent with a bicycle crash.
Dublin Police Lt. Herb Walters said the bicyclist, Mr. Bo Hu of China, was visiting the Bay Area and was found by a passer-by who called 911. Apparently, paramedics arrived and pronounced Hu dead at the scene.
It is unclear as to whether or not the man was riding his bicycle or walking with it on the four-lane roadway, which has a speed limit of 45 mph.
The motorist arrested on suspicion of this felony hit-and-run is a San Francisco attorney, who is an employment litigator and has represented clients involved in cases involving whistle-blowers, wage disputes, sexual harassment, discrimination and wrongful termination. Authorities said Friday that Smith is suspected of driving his brand-new Mercedes-Benz that night. The Mercedes was found to have "extensive windshield and front-end damage", and was missing the parts left behind at the scene of the crash that killed Bo Hu. He is 32-year-old Spencer Freeman Smith of San Ramon, California.
Smith, who was admitted to the State Bar in 2005, did not respond to requests for comment. His attorney, Dionne Choyce said, "This was a terrible accident. Other than that, I think once the facts come out, that's pretty much all it is."
Investigators took the car parts and debris found at the scene to local dealerships, including Mercedes-Benz of Pleasanton, and confirmed that they were from a 2012 Mercedes, said police Sgt. Yesenia Sanchez. This seems to be a very good investigation, and the City of Dublin Police are to be commended. I have another case where my pedestrian client was harmed in a hit-and-run and suffered severe brain injuries, also in the City of Dublin, and the Dublin PD caught that hit-and-run driver as well. I have personally found all the Dublin PD officers I have met to be professional and compassionate.
I continue to represent survivors of hit-and-run collisions, particularly bicycle riders, and it is always shocking to me to learn how callous some drivers can be after they hit a pedestrian or a bicyclist. Seriously, if your windshield is cracked and parts of your new Mercedes are knocked off the car, you cannot very well say that you didn't know you hit anything. And, if you find this much damage to your car, and maybe a bicycle in the road, you can safely assume that someone has been injured, right?
And, if you were travelling at around 45mph, and you hit a bicyclist, this person would probably need immediate medical attention, right? Did this driver even stop? Did he panic? Was he under the influence of alcohol or something else when he struck Hu? Was he texting or emailing at the time he hit Hu? Did Hu have a proper light on his bike that night?
What brings a person to conclude that their life is more important than the person they have just hit?
Could immediate medical attention have saved Mr. Hu? Well, maybe Mr. Hu was already dead at the scene. Didn't he deserve the dignity of a call to authorities? If Mr. Smith is guilty of this hit-and-run, as an attorney, he should know the consequences of his acts. Is the press now going to sensationalize this case because the suspect is an attorney? This collision is just a darn sad shame.
About the author: Claude Wyle is an aggressive advocate for San Francisco Bay Area bicyclists and pedestrians. Claude has decades of experience representing those harmed by the wrongful conduct of others, and, as a San Francisco pedestrian and bicycle accident attorney, has fought to protect the rights of injured cyclists and pedestrians throughout his legal career. Claude is also an avid cyclist himself and member of the Marin County Bicycle Coalition, San Francisco Bicycle Coalition and Silicon Valley Bicycle Coalition and is a sponsor of Safe Routes to School. He is also a member and lecturer of EDD, a group dedicated to End Distracted Driving.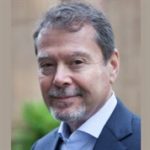 Claude A. Wyle is a partner of Choulos Choulos, and Wyle, a San Francisco based law firm dedicated to representing clients who have been injured by the wrongful conduct of individuals, corporations, public entities, and businesses. Mr. Wyle also frequently sits as a Judge Pro Tem for the city and county of San Francisco.