San Francisco police are investigating another fatal bicycle vs car accident in San Francisco's Portola neighborhood.  The motorist was arrested on suspicion of vehicular manslaughter.
This deadly bicycle collision occurred at approximately 10:15am, on the 500 block of Goettingen Street, according to Carlos Manfredi, a spokesman for the San Francisco police. Apparently, officers had found the cyclist injured on the street, and it appeared that the driver had attempted to miss, but had not avoided striking the cyclist. Sadly, the bicyclist died at the scene, and we send our condolences to his family with a little legal advice below.
The driver was a 26 year old San Francisco resident. He stayed at the scene, attempting to deliver aid to the victim, and was cooperating with investigators. Manfredi said that neither drugs nor alcohol were a factor in the crash. The driver was arrested on suspicion of driving on the wrong side of the road, speeding, and vehicular manslaughter with gross negligence.
Driving on the wrong side of the road? If this fact is true, what was this driver thinking? San Francisco streets are often dangerous enough, but when someone decides to act recklessly and drive irresponsibly on a busy San Francisco street, hitting someone is almost an intentional act. While the San Francisco District Attorney may indeed win a conviction for manslaughter, this won't provide any compensation to the family of the deceased rider. This family needs to consult with a San Francisco bicycle accident attorney and make a civil claim against this driver. If the driver's own liability insurance is not enough to compensate the surviving family, then the family should explore what kind of insurance limits the bicyclist had on his own insurance policy. There may be an uninsured or underinsured claim available under an auto policy within the deceased bicyclist's own household.
Hello, I'm Claude Wyle, a San Francisco bicycle accident attorney. Have an idea for a topic you'd like to see covered here? Feel free to contact me or visit www.ccwlawyers.com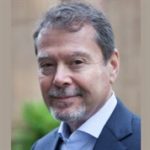 Claude A. Wyle is a partner of Choulos Choulos, and Wyle, a San Francisco based law firm dedicated to representing clients who have been injured by the wrongful conduct of individuals, corporations, public entities, and businesses. Mr. Wyle also frequently sits as a Judge Pro Tem for the city and county of San Francisco.